Natalie Stovall And The Drive is one of those bands that have been around for years but not everyone knows about. Variety Beat had the chance to catch up with Stovall and talk about the band, their music and her tour Three Girls Rock Into A Bar.
It's important to have a community that supports each other and the fans have been there for Stovall and her band, even helping fund her latest EP. She talks about what inspired her single "Heartbreak" and surprisingly it's not about a relationship. In fact, Stovall is happily married to James Bavendam who happens to be the drummer in her band.
VARIETY BEAT INTERVIEWS NATALIE STOVALL:
Variety Beat: Can you tell me about your band Natalie Stovall and The Drive. How did you all come together?
"My band and I have spent most of our time on the road – playing over 200 dates a year for the last few years. James Bavendam (drummer) and I met in college and put a band together. When we graduated, James and I were the only members that moved down to Nashville. We started looking for new members, put an ad on Craig's list, and found Miguel! We met Joel through a former bass player, and that's when it started to become a real band. After years of touring under just my name, I realized my music didn't sound like me without them and wanted to give it a band name to recognize the fact that we really are a band. It's so amazing to tour the world & make music with this band of brothers. They are some of the greatest and most talented people I've ever known, and I get to hang out with them every day!"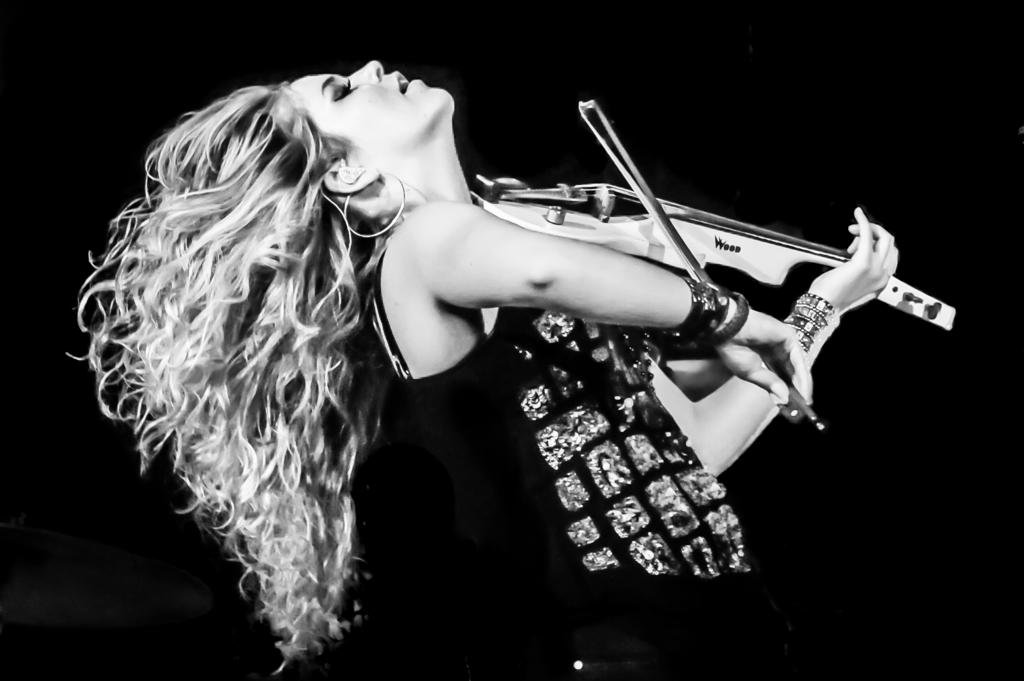 Variety Beat: You recently released your second EP after a successful Kickstarter campaign. Your first EP was also self released. What has that journey been like for you guys as a band and how has it connected you with your fans?
"It was such a bummer when the record label closed down right before our second single was being shipped to radio. But the way the fans have supported us, still come out to shows, and still asked about & bought our music has kept us going. It really is about the music and the people that support us – don't care whether we have a fancy record deal or not. Making this new music was such a rewarding experience. Our fans funded our Kickstarter goal in a little over a week which was HUGE! The whole process – from what I was writing to working with different producers to playing the songs out live – has been such a growing process for us. We keep pushing ourselves as a band. And our fans have really responded to that! We just want to keep making music and reaching as many people as we can with it."
Variety Beat: Your current single is called "Heartbreak," can you explain the inspiration behind the song?
"I was writing with a couple of writers (Maile Misajon and Jason Gantt) in Nashville. It was right after the label had shut down and I was talking about everything I was going through at the time. We were discussing how it's just like a relationship ending – it's someone you depend on and makes you stronger and when that goes away it really is heartbreaking. So much of the momentum we had going came to a screeching halt. But it's what you do AFTER that happens that defines you. So as we were having this discussion and started singing some lines that became the chorus and the song was born."
💔—>❤️https://t.co/0IG3WgtsW1 #Heartbreakhttps://t.co/j59dBcOJKs

— Natalie Stovall (@NatalieStovall) April 1, 2016
Variety Beat: The music video for "Heartbreak" was a ton of fun to watch, was that also self released and what was that journey like?
"HA! Thank you! It was SO much fun to make. We made it with some friends in Dallas that have a production company called Distillery Media. We had come up with the rough idea of the video and I LOVED it cause it made me laugh just thinking about each of the guys being a "bad date". We all sat around with the director, Randy, the day before we shot the video and just created each of the dates. I picked an outfit for each one and then my sweet friend, Hailey Steele, who is an incredible singer/songwriter, just happens to be amazing at hair and make-up, too. So she came and helped me with glam and then was IN the video as the girl Joel leaves me for AND the girl on the bad date at the end :). I highly recommend making videos with your friends. We shot the whole thing at 3 locations in 6 hours and laughed the whole time."
Variety Beat: The video also features your band going on dates with you after finding them on a dating app type deal. Your husband's date, who is the drummer in the band didn't seem to go so well. Will he be getting a second date? 🙂 The ending was hilarious and everyone will have to watch to see what we are talking about!
"HAHA. If any of our original dates had gone that badly he would NOT have gotten a second date!"
WATCH: NATALIE STOVALL AND THE DRIVE'S MUSIC VIDEO "HEARTBREAK"
Variety Beat: I noticed some upcoming shows called 3 Girls Rock Into A Bar with Ruthie Collins and Kelleigh Bannen. How did you all come together to get that set up?
So excited to be playing w/ my girls @kelleighbannen & @ruthie_collins tonight!!! #3GirlsRockIntoABar💃🏼💃🏼💃🏼 pic.twitter.com/5nhiu0U2kF

— Natalie Stovall (@NatalieStovall) March 26, 2016
"I have wanted to do a tour like this for a LONG time. Ruthie and Kelleigh are 2 of my favorite artists in Nashville, so what better way to go on the road than with my band and friends?! My band plays for everyone and we all sing and play for each other and it's just a big party of sharing our favorite music on stage. So far the shows have gone really well and we just want to keep growing it so we can take even more girls out with us!"
Be sure to catch Natalie Stovall and The Drive on the road. Dates here.